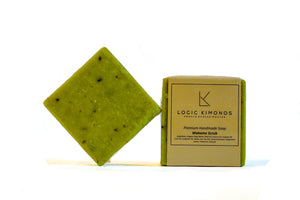 Wakame Scrub is a soap with a very strong fresh, clean scent with a mild undertone of sage and peppermint.

This soap will cleanse and soften your skin with our blend of natural coconut oil, olive oil, and organic shea butter. Sea salt and ground oatmeal are added to exfoliate leaving you with baby soft skin.
BENEFITS: Peppermint oil naturally cleanses the skin and has antiseptic and antibacterial properties. It has a cooling effect which soothes irritation and inflammation.
Other Active Natural Ingredients: Coconut Oil, Canola Oil, Soybean Oil, Organic Shea Butter, Olive Pomace Oil, Sunflower Oil, Sea Salt, Peppermint Leaves, Ground Oatmeal
| | | |
| --- | --- | --- |
|  Size | Height | Weight (lbs) |
| A0 | 5'4" - 5'6" | 100 - 125 |
| A1 | 5'6" - 5'9" | 130 - 155 |
| A2 | 5'10" - 6' | 165 - 200 |
| A3 | 5'10" - 6'2" | 200 - 235 |
| A4 | 6' - 6'4" | 235 - 255 |
| A5 | 6'2"+ | 260+ |