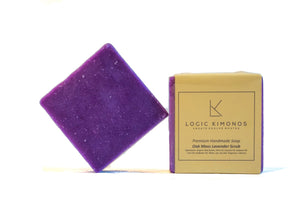 Oak Moss and lavender blend, has a fresh floral scent that will calm your body after a day or night of training. Contain sea salt as an exfoliant.

BENEFITS: Oakmoss essential oil benefits include the use as an antiseptic to prevent infections in open cuts and wounds from training. It has anti-inflammatory qualities that aid in soothing swollen spots on the body. 
This soap is cold processed with no harsh chemicals or preservatives. 

Other Active Natural Ingredients: Coconut Oil, Canola Oil, Soybean Oil, Organic Shea Butter, Water, Olive Pomace Oil, Sunflower Oil Sea Salt. 
| | | |
| --- | --- | --- |
|  Size | Height | Weight (lbs) |
| A0 | 5'4" - 5'6" | 100 - 125 |
| A1 | 5'6" - 5'9" | 130 - 155 |
| A2 | 5'10" - 6' | 165 - 200 |
| A3 | 5'10" - 6'2" | 200 - 235 |
| A4 | 6' - 6'4" | 235 - 255 |
| A5 | 6'2"+ | 260+ |